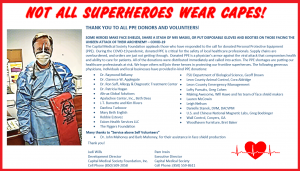 Donate Your N-95 Masks & Other PPEs
The Capital Medical Society is accepting drop-offs of any new, unused N-95 masks that community members or businesses want to donate to the healthcare community in Tallahassee. Often the public may not realize that they have N-95 masks in their utility rooms, garages, sheds, basements, etc. Many masks that are purchased for residential and business purposes, for lawn care, for allergens, for paint, for fumes, etc., – are sometimes printed N95 (which quantifies them as respirators).

Details:
Disposable safety glasses, facial shields, gowns, new, unopened N-95 masks, nitrile disposable gloves, surgical masks, touchless thermometers.
Drop off:
Capital Medical Society
(Corner of Miccosukee Road & Marion Avenue, Parking lot on Marion Avenue)
1204 Miccosukee Road, Tallahassee, FL  32308
Any time between 9 AM and 5 PM, Monday–Friday
Call 850-877-9018 or 850-559-8611 for further details or if different drop off time or day is necessary.