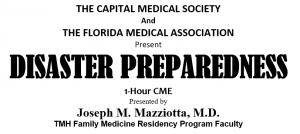 Our headlines are often dominated by stories of natural and man-made disasters.
In recent years our community has experienced many of these events first hand.  Disaster Management is a concept of planning and response to unforeseen events
by individuals and institutions.
This presentation will review some of the similarities and differences between
the types of disasters and how to best be prepared to respond to these events.
Please register by September 10, 2019
Click here for brochure & to register!